Four days, three nights, and complete silence, no sign of other humans. I know the thought has already crossed your mind…so tell me then, when was the last time you experienced over 72 hours without any human residue besides your own? No partner, no sight from 100 yards away, no one, absolutely you. For me, this realization appeared in vivid detail on a backpacking trip to the High Uintas Wilderness near the northern border of Colorado and Utah – a wilderness area that stretches 60 miles, the only mountain range in the lower 48 that runs west to east.
Justification is never required for a trip, however my good friend Dustin Lamont and Kayla McCloyn's wedding on September 6th in SLC was at the perfect time. Eighty-hour work weeks, although filled with progression and fun, had ruled my summer. My responsibilities for the first time since May had ceased, and my common sense knew it was time to load up the Ford and bail. After picking up a Utah fishing license in Salt Lake City, I found myself making ground on Hwy 40 east bound once again towards Duchesne Utah. After making a left-hand turn on Hwy 87, I was soon greeted with a familiar sight as the pavement ended and the sage brush encroached upon the heavy washboard. My dashboard rattling so hard I thought my front end of the cab would fall off.
The disheveled state of the road encourages my selection of journey; however, I can't help but question the mechanical integrity of "The Beast" (my 1994 Ford F150) as I roll up the windows due to my teeth being encased with a fine coat of Utah desert sand. After close to an hour I finally arrive at the Swift Creek TH, load my backpack and begin to bite off step after step. Immediately it's clear the Uintas are a unique wilderness. The first mile reveals soft sand and thin pine trees, almost as if I'm in the mountainous regions of Arizona. The trees slowly thicken with diameter and height; however, the sandy trail doesn't change much besides decreasing in stability with endless fist sized rocks and pebbles that act as ball-bearings when you're trying to secure your footing. This trail, more than likely doesn't define all trails in the Uintas, however it's almost as if more horses use these trails than hikers… churning up the sandy/rocky soil into a gravel yard.
Ha ha alright that's enough of that, however it is the truth and one of my takeaways. With approaching darkness, I soon force myself to stop, a night at Deer Lake is certainly adequate. Typically, I would keep grinding, however this trip is different, I must relax – low mileage, reach the destination and kick back. The following morning, I would rise with the sun and put on the remaining 3.5 miles to the Timothy Lakes. A tiered series of alpine lakes fill the basin, surrounded by massive tree barren red-shale walls, all peaks are rounded at their summits. Looking back on this trip, it is within this moment that I'm often challenged while backpacking – you reach your destination and immediately want to throw down your pack and lay claim to a campsite. However, you know and I know with just a little more effort the ideal spot can be found, therefore, I continue to poke around until I found the perfect campsite – a beach like area with sand to match, secluded, and a calm inlet for fishing as well.
Twilight is accompanied by the rising of hundreds of fish simultaneously, boiling you could say – making it easy to snag three healthy volunteers, seasoning them with salt, pepper, and garlic, then wrapping in tin-foil and letting them simmer in olive oil over hot coals. If you are accompanied by your fly rod on most backpacking trips, I would highly recommend the active waters of the High Uintas. Over the course of the next 3 days I would visit the accompanying 4 Timothy Lakes catching trout on the first or second cast, never changing my fly once, and spending my afternoons stretched out in the sun swaying in a hammock while reading "The Power of Now" by Eckhart Tolle…a book I would highly recommend – most certainly if you don't have any distractions for 3 days!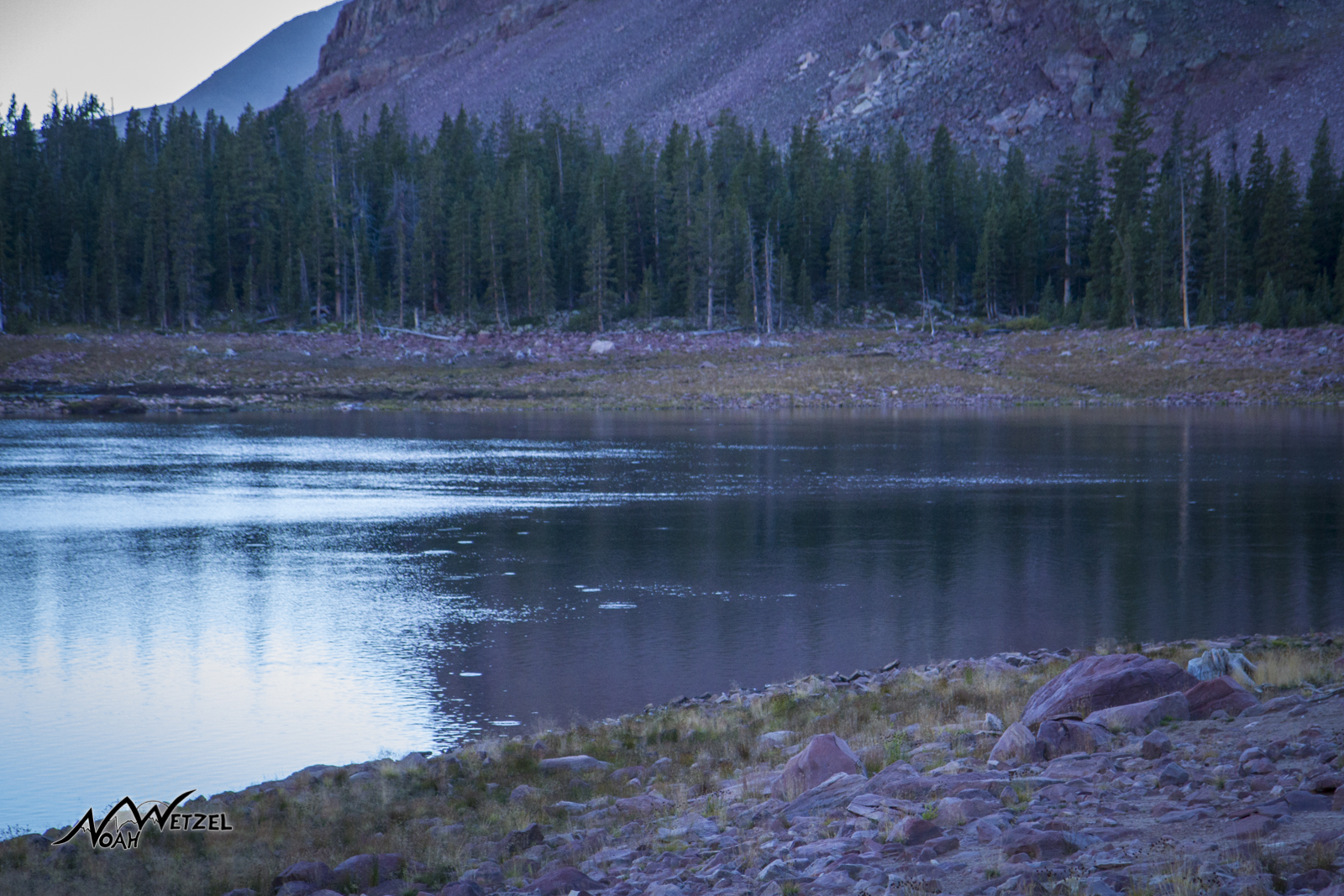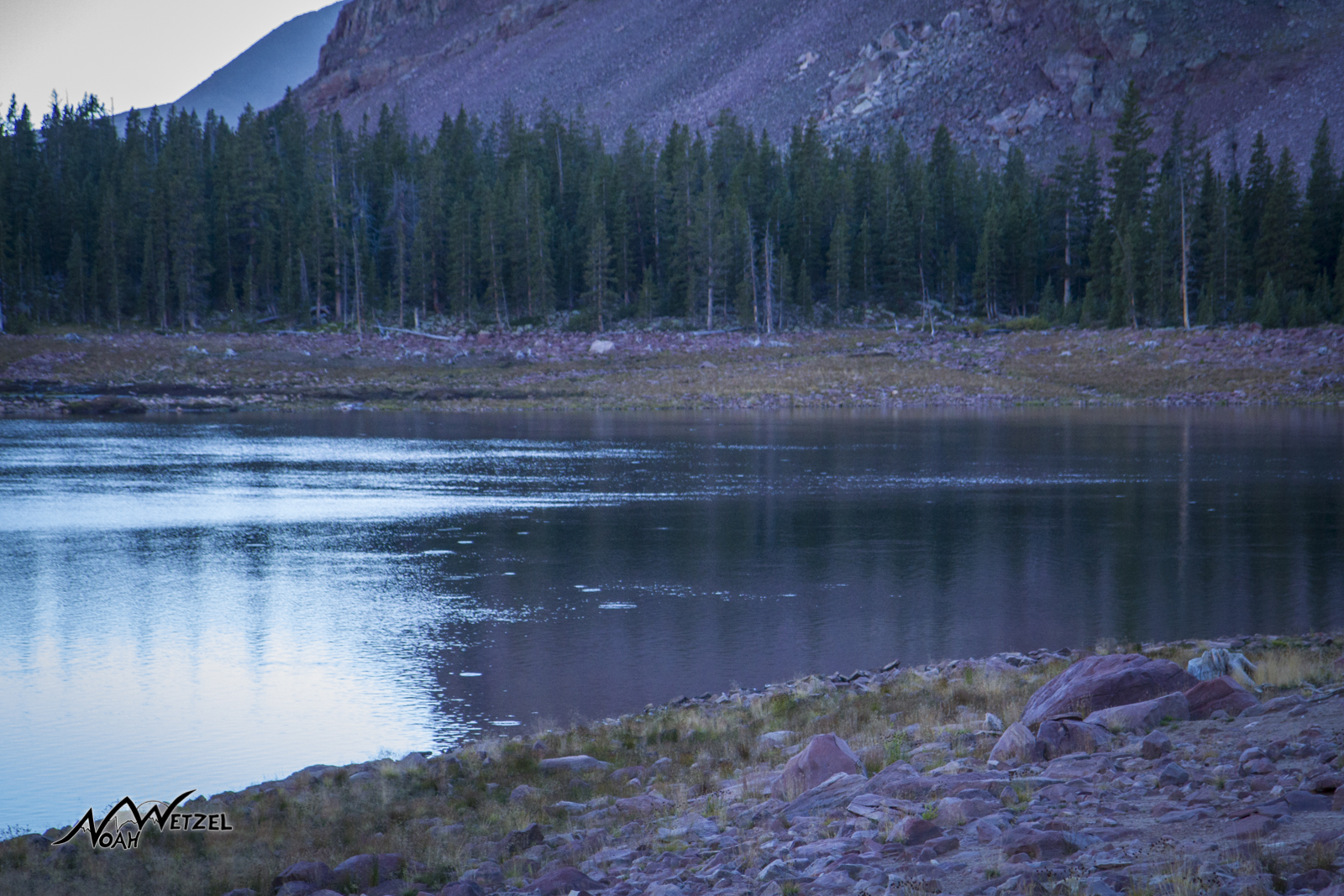 With that being said, it's always easy to choose the adventure that you've read about time and time again. However, I'm starting to realize I appreciate the off-the beaten path wilderness areas, state-parks, national parks and destinations. Next trip, pick a remote area, pack a good book, and hit the trail alone, you'll be amazed at what you will discover!
DIRECTIONS:
· From Duchesne, Utah, take Hwy 87 North for 15.7 miles roughly
· Turn Left on 21000W and continue through the small town of Mountain Home
· After passing through Mountain Home the road will take a sharp right, continue on the road and soon thereafter Take a left on 20780W
· Turn Right onto FR119
· Stay Left. Turning onto FR124 and following that to the Swift Creek TH
TRAILS:
o Use Trail 056 and follow until reaching Trail 055. Follow 055 up to Timothy Lakes