The lights on the stage rapidly dim, and two curtains fall simultaneously at a shuttering speed. With the curtains there is a loud sound, as if the largest generator for a power plant is shutting down. My heart rate rapidly increases, and in that moment time stands still as a powerful force, an unbearable pressure exits both ears simultaneously. Its 3:45am, my greasy hair pressed against the frosty glass of my inner truck cab – my body positioned across the center console with my legs finding awkward seams between the steering wheel and dashboard, with my head ...of course folded as if I fell asleep on a undersized couch.
There was no attempt, yet without hesitation my body was alarmed as I sprung upward into a vertical attention – my exaggerated breathes paint the glass with a damp fog. Tucked into a vacant corner of a Canyonlands National Park dirt parking lot, I quickly set my alarm for 1 hour later, 4:45am. This marks day 7 of the journey. It was most certainly an urgent fear that consumed my attention, the uncertainty of the prior moment pulsing through my veins – heart pounding adrenalin. Wide-eyed I once again gather myself…I must reset, but my fear has immobilized me. Do I close my eyes once again and risk the unknown? I have experienced many odd fluctuations of physical health in the past (tunnel vision, lapses in my hearing, loss of vision) but nothing such as this. My body is obviously so exhausted it's shutting down without my consent. Breath after breath coats the inner glass with a thickening frost as I do my best to slow my heart rate…when without notice the curtain crashes down once again (slamming so hard of the bottom of my eyelids with the same sound and pressure exiting my ear drums). My hear rate once again explodes through the roof. If I close my eyes will I awaken once again?
Let me ask you a question; how often do you have a trip in mind for your nearest "down-time" but when that time arrives you find that what you perceive as "reality" forces you to put a hold on things? Yep, that's what I thought; however you're not alone. After experiencing most of my 20's I can honestly say I wouldn't change the outcome and my current situation. I've experienced many great destinations and people. However, as I approach my 30th year on this spinning mass of a star, I've realized how many times I have conjured up a scroll of excuses when it comes time to laying the rubber on the road. Monetary status, jobs, and language barriers are some of the first that come to mind. I've come to realize these are often the comforter and sheets that tuck you into sleep on your bed of lies. Fear – that is the excuse majority, if not the only reason we so often come to the conclusion of procrastination, "next year."
For those of you who aren't familiar with mud season, it's a period of time in the spring and fall where most seasonal jobs come to an end (snow melts…ground becomes soft, leaves-fall and the ground is moistened with endless rainfall before the temps drop and the ground is covered in snow) giving many of us ample time to travel if the meager wages provide. This past November, I decided to do just that, explore, and do it as cheap as possible. How much was I actually lying to myself in the past? Departing Steamboat I moved back to Alta and immediately hit the road the next morning for Moab, Utah. These days most of our social media feeds are filled with unbelievable destinations, and why do we choose to follow these sources…because we want to experience that same beauty some day. With that said, how are you going to remember that exact spot…I've recently begun taking screen shots of those posts…so I don't forget, anything worthwhile… screen shot. Then when it comes time to planning a trip, you have plenty of ideas, and it then becomes a fun game of connect the dots!
Moab is a unique spot, if not considered a mecca to most citizens residing in the Western U.S. Although it does snow, Moab is often the recipient of beautiful weather, that combined with unique geology and you've got yourself a utopia of world-class mountain biking, rafting, climbing, off-roading, and much more. I have experienced Moab many times; therefore on this trip it was more of a wayside for the proceeding destinations. I found myself alone under the cool clear skies in Arches N.P. the first night, and proceeded to wake up early and shoot Mesa Arch in Canyonlands N.P. Although Mesa Arch is one of the most photographed natural landmarks in the World, there's good reason (it's a gorgeous arch that opens to the east making it the ideal location for sunrise), however, if you are planning on witnessing this by your lonesome, you may want to reconsider another arch. Almost 365 days of the year, this location has photographers teeming shoulder to shoulder before sunrise. None-the-less, this isn't a shot you MUST capture, however, it's too beautiful not to…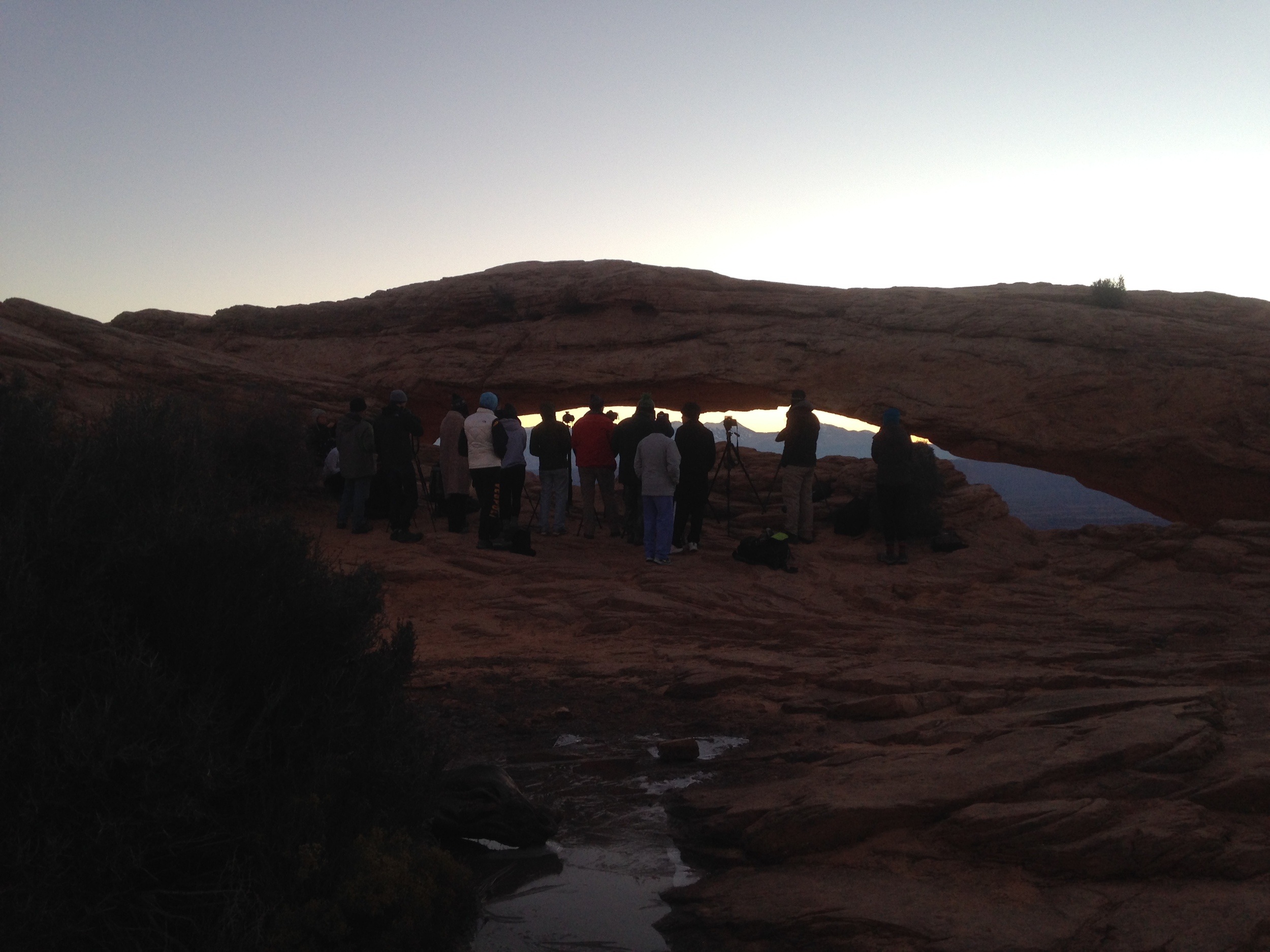 The southwest is littered with desert gems, therefore I created a list of spots and depending upon time on location…I'd choose the next spot…."where do I want to go next?" Monument Valley seems close enough. Upon arrival, I met a man by the name of Airken. Originally from Mongolia, he had spent the last eight years living in the states. His broken English was tough at first to decipher, but he became easier to understand. Airken and myself became good friends over the course of the night, sharing dinner and a few beers…ohh yeah he's a fan of spliffs too. Upon meeting Airken, he informed me his name was Erik…obviously it was much easier to pronounce. I insisted, Airken; one of the better names I think. Airken was currently on mile 9,000 of a 10,000-mile trip and explained the story behind purchasing a 250cc dirt bike - proceeding to depart without a license (not necessary in California, acquiring his motors permit along the way before exiting California and heading up to Canada). From there he was almost kicked out of some high security monument towers due to his 10-12" machete blade (his protection for the trip/useful belonging) along with sharing many stories of his encounters along the way. People would ask him "why only a 250cc, did you not think this through?"
What I admired most about Airken was his determination. The 250cc bike, loaded to the gills with packs side to side – front to back would max out at only 65mph…if lucky. Although the lightweight size couldn't track straight in wind, blowing him off the interstate multiple times in Texas, this didn't stop him from accomplishing his mission. It's what he could afford, not the most comfortable or ideal, but certainly adequate to get the job done. With that in mind I was almost ashamed, but more than that…inspired. Here we have an individual who survived the hardships of his country and mustered the courage to leave friends and family to pursue the greener grass in the unknown. Here Airken had seen more of the US in eight years than I have my entire life. Upon our mutual departure I captured a few short video clips with his phone of him riding the center yellow line of the road leading to Monument Valley. I couldn't help but chuckle as I followed him the first 10 miles or so…Airken holding up traffic riding the shoulder getting blown around once again. He journeyed from CA up to Canada, across to NY and then meandered through the US on his return home…unsure of his fate (working/finding a job) but certain the journey was an absolute.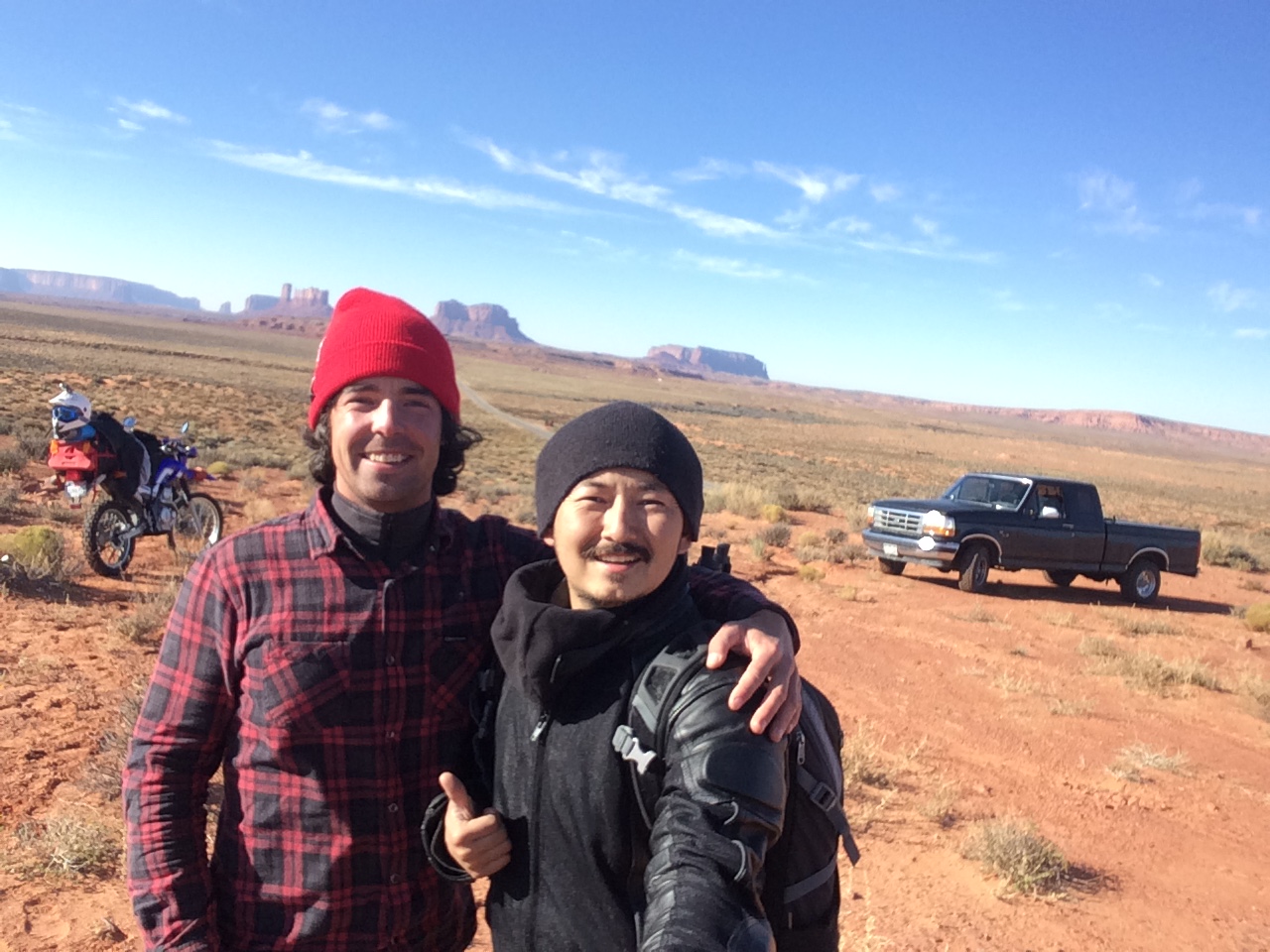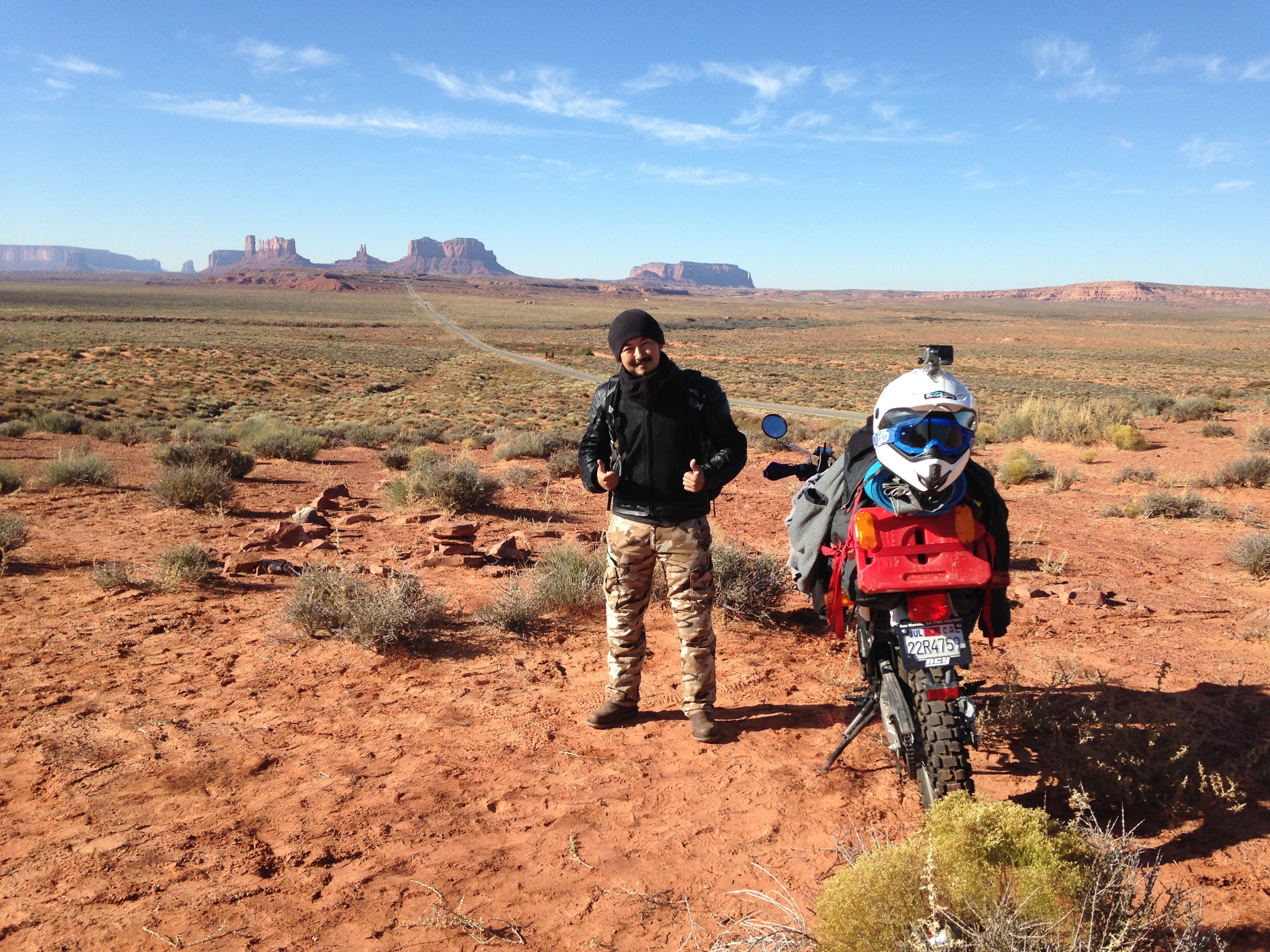 After driving through Monument Valley we would reconnect once again to share a rolled cigarette at the parking lot for Horseshoe Bend in Page Arizona – not something I often do, but when I am travelling it seems not only natural, but also appropriate. Page Arizona is home to a few things, Lake Powell, Glen Canyon Dam, Horseshoe Bend, and Antelope Canyon to name a few. Once again there's not much if any BLM areas, therefore making it a quick stop for myself, spending the sunset at Horseshoe Bend and finding a small area near the dam to pull over and crash for the night while shooting Antelope Canyon (upper) the next morning. Although there are many great slot canyons, and Antelope canyon being over used and commercialized ($80 for a guided DSLR hike w/tripod) it was still justifiable for a once or twice in a lifetime.
Over the tight winding hills of highway 89 with a quick stop at the Marble Canyon Twin Navajo Bridges, I then made the mad dash to the Grand Canyon for my first time. I was able to grab a few shots at sunset; however, purchasing a nearby campsite for $20 within the park with efficient foresight for shooting sunrise would put me in the right position! My only campfire of the trip came on this night (sleeping in the back of my truck shooting sunrise and sunset every day can be quite tiring…and often there's no time to start a fire) how comforting they can be! Glancing at the weather "sky coverage " graph on NOAA it appeared as if there would be rain and snow showers at sunrise with just enough of a seam in the clouds to provide a great opportunity.
That next morning my calculations materialized. With hundreds of people overlooking the Grand Canyon, I was one of the few (photographers) loosing my shit as I scrambled from one spot to the next, hoping I would catch the most beautiful moment in all its glory. After convincing a few kids to leave their perch for a moment, I was able to do just that…easily a top ten moment! Soon after, the fleeting sunrise was met with waves of thick fog and heavy snowfall…I figured…well it aint going to get any better than this, but before I departed for Supai, let me at least soak things up with some coffee and breakfast at the Yavapai Lodge. Little did I know, making that decision would delay me enough to run into a good friend (Ben Hitch, a co-worker at Catamount Ranch & Club a few years back) on his way to California…turns out he was maybe no more than a few hundred yards away in the same campground the night before. During breakfast Ben received a text from a mutual friend informing him that I was there as well haha, "I know, I'm having breakfast with him right now," Ben replied. Pay the bill and then we caravanned south where we parted ways at the Road Kill Grill in historic Seligman on Route 66. "Good luck Ben" (moving to raise a family), " Good luck to you as well Noah (I would need it, trying to figure out what and where the hell is this Supai place?).
"Route 66 is my driveway, that is what I always tell people," an over ecstatic gas station clerk replied when I inquired about Supai. The 40 year old something man, wide-eyed and crazy gave me the small run down of his life growing up and living in Seligman before giving me some intimidating details about Supai. The Indian Village of Supai is tucked in a remote section on the South Rim of the Grand Canyon about (check details) about 160 miles northwest of Flagstaff Arizona. While researching this destination I concluded the details were contradicting besides one thing; many people try to visit, and permits are tough. The clerk continued as much to inform me the road going north to Hualapai Hilltop (where you park and descend 9 miles and 2,200 vertical feet to the Village of Supai) is approximately 60 miles…(correct) but almost entirely 4 x 4, which with rain could turn into a muddy disaster. No cell coverage or water, rumors of parking lot theft, and or guarantee I would actually make it to the village was disconcerting and no less than intimidating. Gallons of water, firewood, and the fullest of full tanks of gas and I would head off to chase down the ever elusive Supai.
Sixty miles of desolate winding blacktop following Indian Rd. 18, intruded only by desert sage and ever-persistent grass muscling its way up through the weathered pavement would lead me to a small parking lot. Fifty cars, a few mules, and one very lean dog would paint the picture of Hualapai Hilltop. For one this clerk was wrong, "was I at the right place, or was there a road I had missed?" I asked myself. More questions were raised when a small sign on a vacant shack read "no day hiking…Absolutely No Night Hiking!" What the hell does that mean, what other type of hiking is there? These questions would be reassured by strength in numbers when I noticed a couple and their mini-van. I kindly greeted them to reiterate my concerns – mutual in fact. Jerome and Rachel were visiting from London on a three-month journey through the states. A tall and handsome blonde, Jerome was supported by yet another beautiful blonde, lean… charming and the ever so nice Rachel. Their smiles were easy to calm my inquisition, offering me chai tea, 8 oz. Budweiser, and warm food. They had rented a mini-van, equipped primarily for adventuring, it came equipped with storage, a counter and sink in the trunk, not to over shadow the most useful benefit of a mini van – space – lay down the seats and wala…bed. We exchanged many stories and it was immediately apparent we were of similar character. Without a permit, they had decided to wake up and 5am departing in the dark to beg for forgiveness instead of asking permission… "nooo (innocent look we didn't see any signs, are there permits available?" Politely, they assured me I must join, done!
5am came at no surprise, all of us eager and nervous to get moving. Nine miles of rocky descending switchbacks would give way to a sandy wash. For Jerome and Rachel they had planned a day hike, a casual 21-mile day hike, my American upbringing would have assumed mere fatality from this harmless looking UK couple. However, it was nothing but ordinary. Yes…most Americans are soft (Side Note*). Making great progress, the cool morning air tinted with a dash of pink and light blue, with a crispness that would remind me only of the snow that had fallen on me while sleeping underneath my tarp in my truck-bed…would slowly give-way to the rising sun.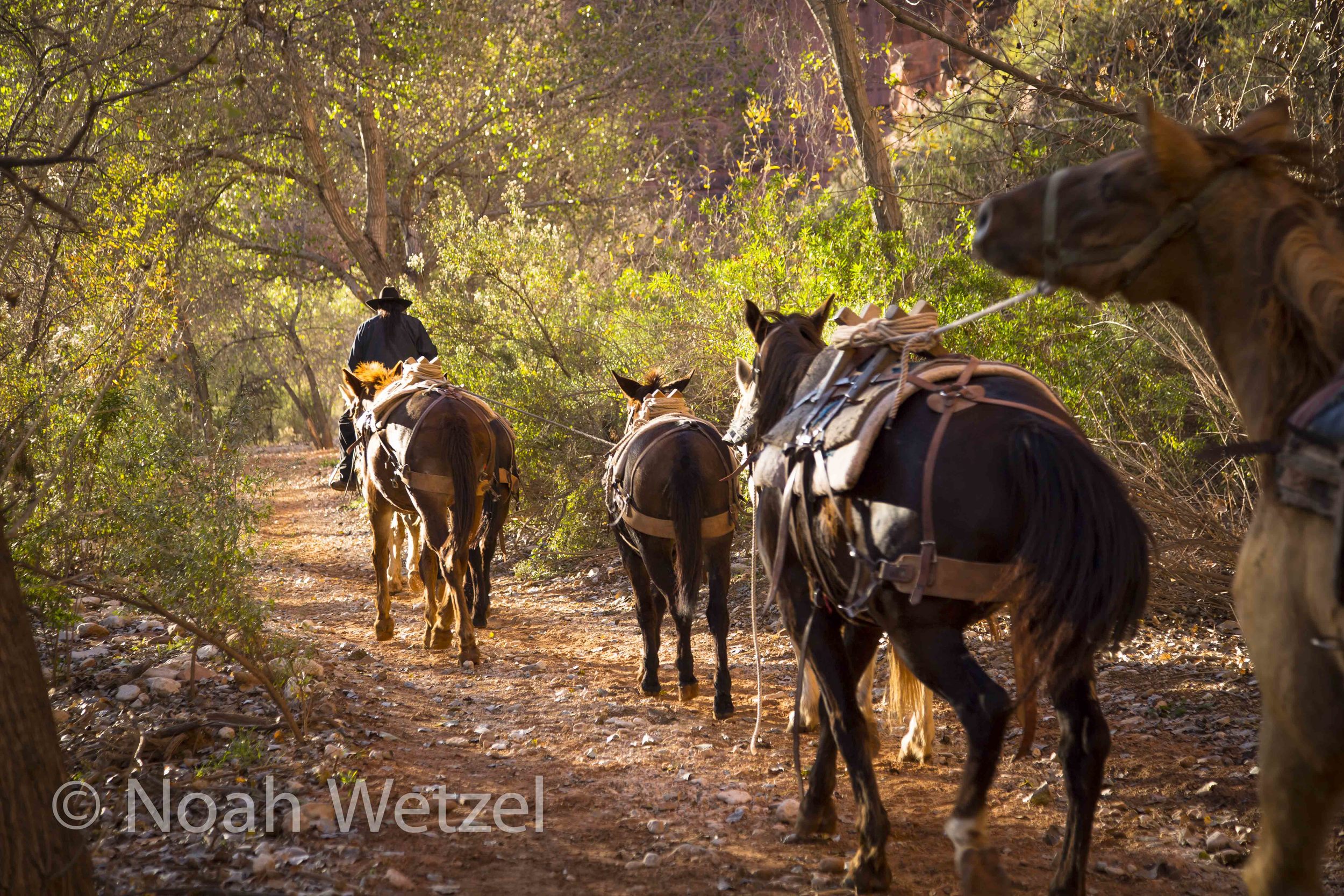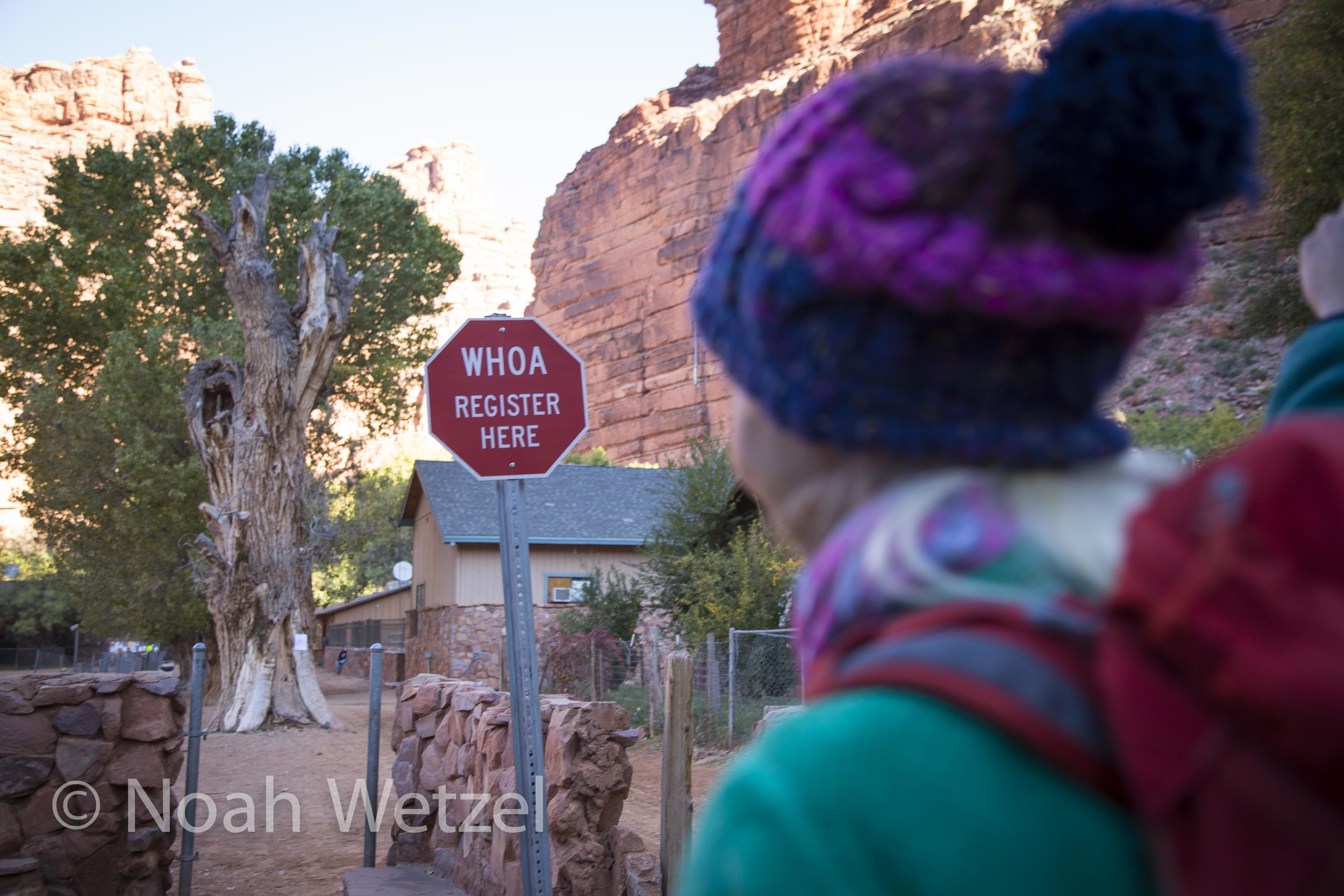 "WHOA…Register Here" a sign would greet us. Fate would be decided as we entered the visitor center. To our surprise permits were available; $80 for a day hike, and $60 for overnight backpacking – yet another moment of "huhh…where is the logic in this Supai place?" After agreeing to Jerome in cahoots to tell the receptionist we were all backpacking, we made one last stop at the village grocery store (spending our savings of $40). Piles of sand welcome us in the corners of the entrance, however to our amazement, in the dilapidated state there are plenty of supplies. One of the many things I read about Supai described no water…hike everything in…and yet, we were surrounded by supplies; cold drinks, fresh produce, tobacco, and my favorite…Wisconsin Cheddar – freshly cut from a massive block (deli-style) – the clerk laughs at me, attempting to hide her humor by covering her mouth…I guess they don't appreciate cheese as much? Wait one more thing, its 9am…coffee couldn't be more perfect – we exit the store.
Strolling on a path the width of a small wagon, we pass by house after house. "It doesn't feel like we're in America anymore, " Jerome voices what we're all thinking. It's almost as if we stepped back in time, or passed through a gate into a distant country. A corridor of disheveled wooden fences and wire guide us through stray dogs, horses and shacks. From the village the main falls are no more than 2 miles walk, and sure enough there are more falls and beauty along the way. When you research Havasupai, the photos that appear are mostly of Havasu and Mooney Falls, what is few and far between are the other falls, woven into the meandering stream. "Could the water be that blue?" I ask myself…uhhhh yep! Hidden falls both surprise us with amazement, small and large streams of water cascade down jungle-esc rock surrounded by towering red canyon walls.
Further down we would pass Navajo Falls as we approached the main event, Havasu Falls. The roar of the water grew and we finally encroached upon the top of Havasu Falls, peering over in disbelief a small pool of blue water and a desert oasis awaited us. Holy shit, I don't have too much to say, absolutely breathtaking, and a feeling of accomplishment finally seeing it in person! Jerome, Rachel, and I would stop for a few moments soaking it all in, debating a cold dip in the seemingly warm November water, truly surreal. On our way to Mooney falls we would pass the campground, about 75 spots with picnic tables at each site, nearby bathrooms would accommodate, and contradicting to the researched info, water once again flowing from a nearby spring! Shortly thereafter we ran into a small group of middle-aged tourists ecstatically commentating on the severity of the approaching tunnel and down climb to Mooney falls. Ha sure, intense right ha? Tunnel…really? 50 lbs. on my shoulders with a camera/tripod in one hand, and trekking poles in the other! Well by God, they weren't inexperienced, they were correct! It was tight, tight, tight, and tough to squeeze through, almost impossible with gear and certainly no shortage of sketchiness. The narrow tunnels lead to a slippery old sequence of wooden ladders, rebar, and chains straight removed from an Indiana Jones classic. Your wet sandy grip is the only thing keeping you from slipping on the mist-laden rock and mossy ladders. The 120ft Mooney falls didn't cease to amaze, we called it quits at that point and absorbed the moment taking some pictures together and honoring the beauty in silence.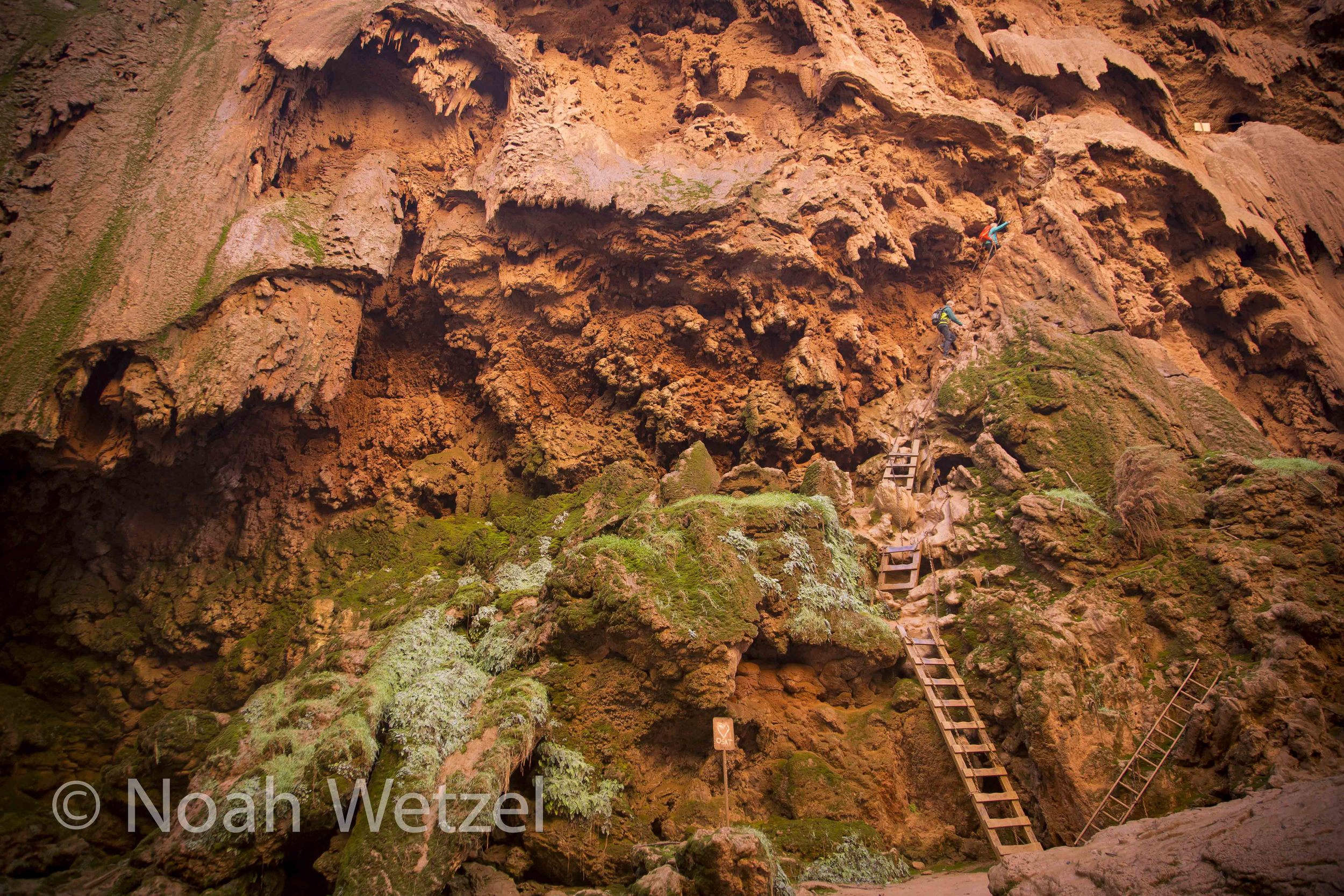 As I set up for the night, we exchanged contact information, some buffalo jerky and cheese. Once again I was truly amazed at how perfect the situation could be. Over the course of 24 hours, I had spent nearly all of them awake exchanging energy and a ton of smiles with Jerome and Rachel. Truly blessed, and I would always have a place to stay in London! 11 miles in, and halfway, Jerome and Rachel departed, leaving me-and-my camera in this Garden of Eden. The next morning I rose with urgency, its time, time to go home, time to be with my friends – yet so far away. I eagerly packed and hurried up the trail to the village. With no roads in or out, the villagers are forced to fly in supplies. Positioned in the village center, there's an 80 x 80 yard grassy field that holds nothing more than a wind tube post, and a worn down grassy area where previous helicopters had landed. A few natives wait on a steel bench (typical at most high school football fields) as load after load of supplies are flown in. A shoulder high chain-link fence separates the small village from the landing zone, without a door to prevent anyone or animal from wandering across at an inopportune moment. A few dogs roam about as the next load of supplies is released, Eighty-five dollars and a handshake with a man who directs me in broken English to the helicopter and 5 minutes later I'm once again standing atop Hualapai Hilltop – ahhhh the easy way!
Relief encompasses every nerve as I load my vehicle and turn the key over in the ignition; with it turning over…I know I'm one step closer to home. A few hours later, I'm sitting at a locals favorite in Flagstaff – Diablo Burger. I would reconvene with a very close friend Ryan Smith who I hadn't touched base with in over 6 years. There's no substitute for a close friend. Close friends aren't offended when you don't call or communicate. Months and years may pass, but they always know you're there. If you visit their town but simply don't have enough time to meet up…they understand without question. This is why I had to drive the 90 miles out of the way to see Ryan. A burger and a beer, nothing had changed between us. With the fall of night, I hit the desolate road once again, burning away the midnight sun.
A blur of dashed yellow lines and my mind would wander to the new friends I had made along the trip, their generosity, humility, courage and kindness. 2,000 miles, $750, Arches National Park, Sunrise at Mesa Arch in Canyonlands National Park, Monument Valley with Airken Zhang, Horseshoe Bend and Antelope Canyon in Page Arizona, THE GRAND CANYON with Ben Hitch, Supai Arizona with Jerome and Rachel. and finally Ryan Smith – what a trip! Finally after the helicopter ride I approached my 1994 Ford, in the truck bed a piece of paper caught my eye in a bundle of firewood. I opened the note, which read, " So Great meeting you! Safe Travels – have a beer on us. Rachel & Jerome" with a smiley face. P.S. if the beers not here – someone stole it!" and out popped an 8 oz. Budweiser… wow, class act FRIENDS!